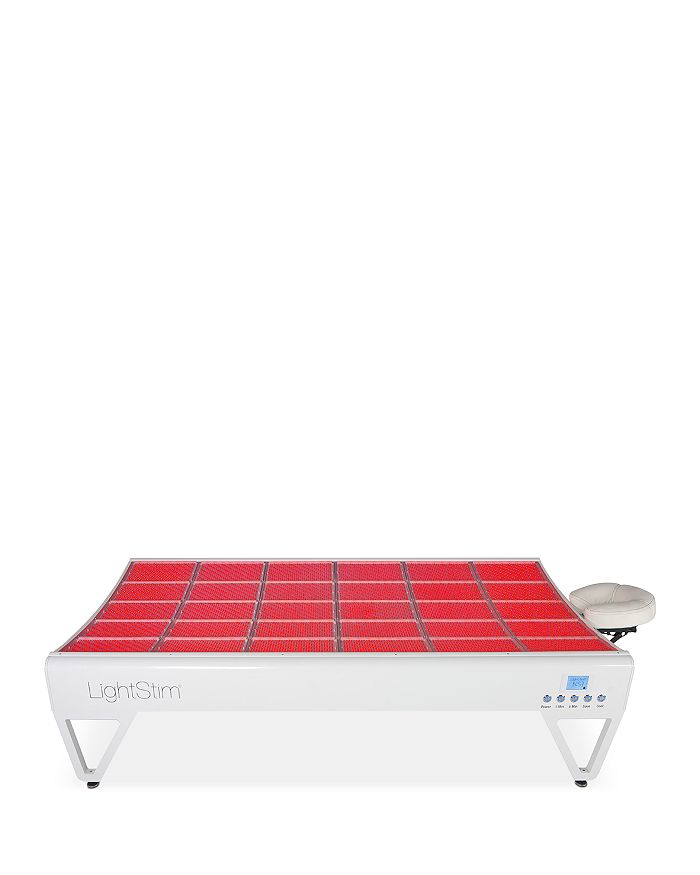 product details
WHAT IT IS:
The First LED Bed to gain Over-The-Counter FDA Clearance, LightStim LED Bed is a soothing, natural and non-invasive treatment that promotes total body wellness and peak physiological function, setting in motion the body's inherent pain-relieving process.

SET INCLUDES:
- LightStim LED Bed
- LightStim ProPanel Anti-Aging Light
- LightStim PhotoSerum, 1 oz.
- LightStim PhotoMasque, 4 oz.
- 20 packets of LightStim BodySerum
- 3 LightStim Towels
- 3 pairs of Goggles
- Lucasol™ One-Step Disinfectant Concentrate and spray bottle
- 1 package of Headrest Covers
- Headrest and Mount
- 10' Power Cable
- TRIPP-LITE Isolated Power Strip

WHAT IT DOES:
The LightStim LED Bed is FDA-cleared for the temporary relief of minor muscle and joint pain and stiffness, minor arthritic pain or muscle spasms, relaxation of muscles and a temporary increase in local blood circulation.

LightStim MultiWave® Patented Technology simultaneously emits multiple wavelengths (colors) of light. These wavelengths of light work together to address different areas of pain and increase blood circulation. LightStim LED Bed is a full body treatment composed of 18,240 LEDs utilizing 630 nm and 660 nm Red, and 850 nm and 940 nm Infrared.

One-on-one training is available directly with LightStim. Call and schedule your training as soon as you place your order.
Bed dimensions: 86"L (including headrest) x 40"W x 18"H
Minimum room size: 6' x 8'
Requires a doorway opening of 27" or larger
Do not place the Bed where it is directly exposed to sunlight
Requires a dedicated line supplying a voltage within the range of 110-volt to 240-volt power and a 15-amp dedicated breaker
Requires an outlet within 5' of the bed. Do not use an extension cord
In studies conducted by NASA, low-level light therapy has been shown to help the body heal itself by stimulating its natural ability for regeneration and repair.
How LED Light Therapy Works
Just like plants, our skin and other body tissues have the ability to absorb light and convert it into energy. LightStim LED light therapy delivers light energy in a similar way plants absorb light energy from the sun.
LightStim emits UV-free, beneficial light energy to the skin to help to activate the body's natural pain relieving processes.
LED Light Therapy is a non-invasive and natural treatment with over 200 medical and university studies showing no negative side effects.
LightStim MultiWave® Patented Technology simultaneously emits multiple wavelengths (colors) of light.
These wavelengths of light work together to address different areas of pain and increase blood circulation.
Web ID: 4063674