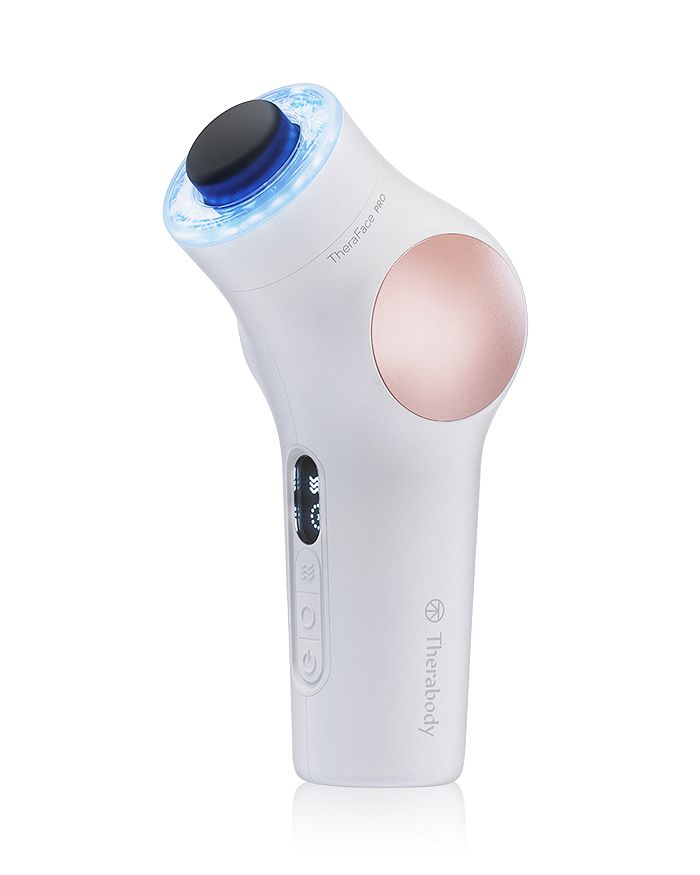 product details
WHAT IT IS:
The TheraFace PRO is your all-in-one solution for optimal facial health.

SET INCLUDES:
- TheraFace PRO device
- 3 Percussive Facial Attachments
- Microcurrent Ring
- LED Ring
- Cleaning Ring
- TheraOne Conductive Gel 1.7 oz.
- Soft Carrying Bag
- Stand
- USB-A to USB-C charging cable

WHAT IT DOES:
- TheraFace PRO is the first facial device on the market to use percussive therapy on the face.
- Treatment can be tailored to your facial needs with a magnetic ring system that allows you to switch between treatments.
- The compact and portable device helps you achieve ultimate facial health by combining innovation, advanced facial routines and science-backed treatments.
- Percussive facial therapy helps reduce tension, relax facial muscles and ease discomfort.
- Microcurrent therapy firms and tightens the skin and improves muscle tone and contour.
- LED Red Light therapy reduces wrinkles around the eyes.
- LED Blue Light therapy reduces mild to moderate acne.
- LED Red + Infrared Light therapy reduces wrinkles around the eyes and provides therapeutic warming to temporarily reduce pain and discomfort.
- Deep cleansing helps remove facial buildup of dirt, oil and debris.
- OLED screen.
- 120-minute battery life.
- 15-sec. beep for guided timing during treatments.
- Compatible with the TheraFace Hot & Cold Rings (sold separately).