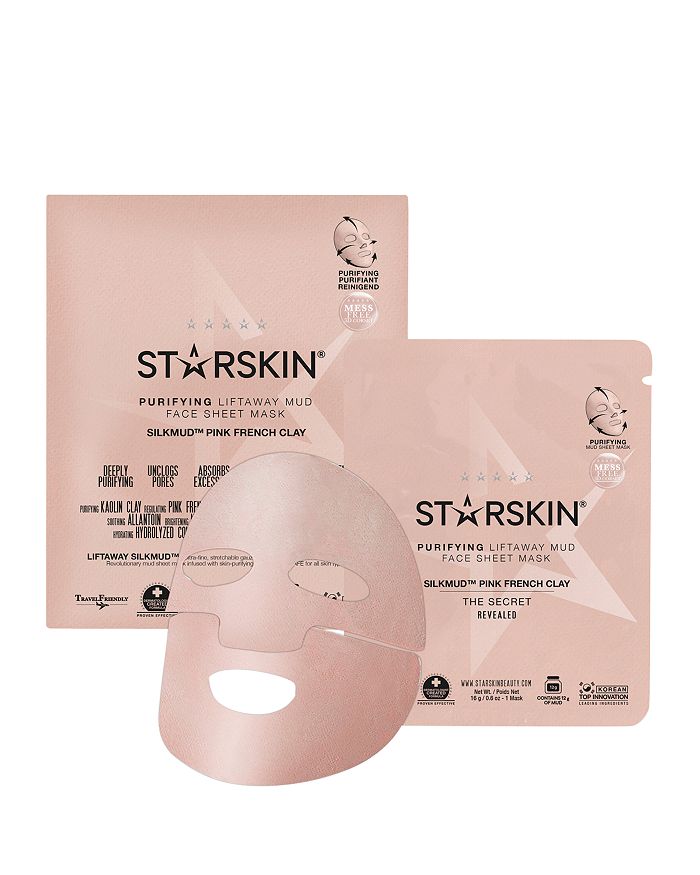 STARSKIN
Silkmud Pink French Clay Purifying Liftaway Mud Sheet Mask
product details
WHAT IT IS:
Purify your skin to perfection with STARSKIN's Silkmud Pink French Clay Purifying Liftaway Mud--a revolutionary, mess-free mud mask combining the deep cleansing power of mud with the convenience of a sheet mask.

WHAT IT'S FOR:
Perfect for oily, blemished or acne-prone skin.

WHAT IT DOES:
Constructed from ultra-fine gauze, each mask is infused with a powerful trio of Pink French Clay, Kaolin clay and Bentonite to blitz blemishes, blackheads and blocked pores without drying the skin. Contouring closely to the face, Silkmud also creates a natural lifting effect as it hardens. After just 20 minutes, simply lift away, rinse and glow! Skin looks instantly clearer, brighter and more radiant, with visibly tightened pores and a matte, shine-free finish.

KEY INGREDIENTS:
• Natural Silk Cocoon extract softens the skin
• Niacinamide smooths and brightens

HOW TO USE IT:
1. Cleanse face and pat dry. Must be applied to dry skin.
2. Remove the mask from the sachet and unfold both pieces. Starting with the upper part, remove the transparent film.
3. Place the upper piece on face, matching the position of eyes. Then remove the white film. Smooth out or gently stretch to ensure a perfect fit.
4. Repeat with the lower piece, slightly overlapping the upper piece.
5. Leave on for 20 minutes or until you feel a tightening/lifting effect and the mask is dry.
1 mask
This product is part of Glowhaus, a makeup and skin care boutique featuring all things dewy, sparkly and bright.
Web ID: 2969637