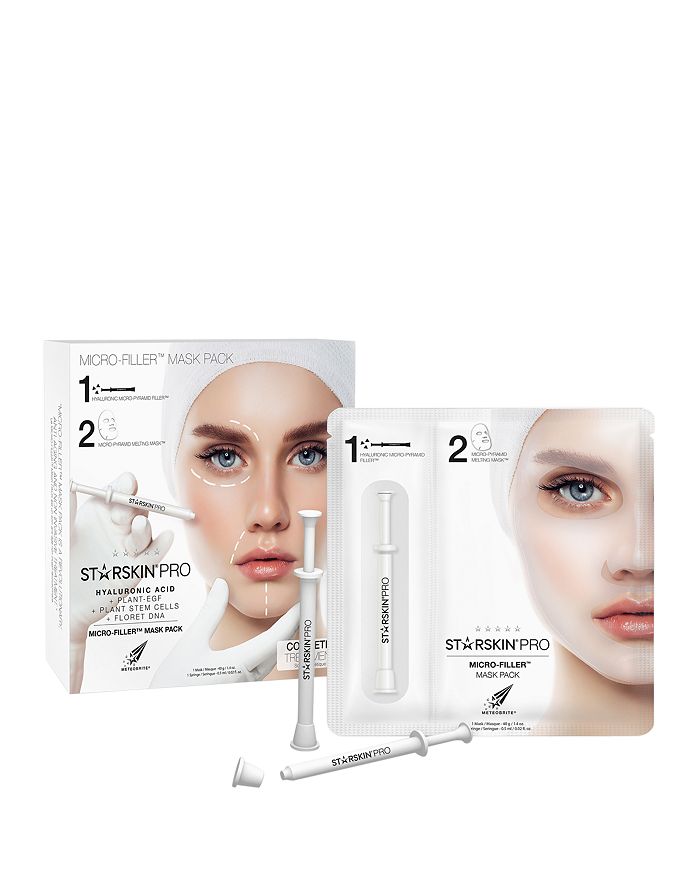 STARSKIN
Pro Micro-Filler Mask Pack 1.42 oz.
product details
WHAT IT IS:
STARSKIN® PRO Micro-Filler Mask Pack is a revolutionary, anti-aging and non-invasive treatment. This two-step transdermal delivery treatment contains groundbreaking Hyaluronic Acid Micro-Pyramids that deliver a rejuvenating cocktail of Hyaluronic Acid, Plant-EGF, Plant Stem Cells and Floret DNA to directly transform the skin, focus on repair and reverse signs of aging.

WHAT IT DOES:
Patented Hyaluronic Acid Micro-Pyramids create controlled punctures on the skin's uppermost layer to boost collagen production, blur out fine lines and wrinkles, enhance skin tone and boost renewal from the inside out. Replicates the skin rejuvenating effects of professional micro-needling in a safe and painless and hygienic way.

Experience a remarkable difference as fine lines, wrinkles and imperfections fade away and skin feels softer, smoother and more even with a youthful, luminous glow.

HOW TO USE IT:
1. Cleanse face and pat dry.
2. Remove syringe cap and apply entire contents on face.
3. Massage for 1-2 mins using circular motions, followed by light tapping.
4. Tear open Bio-Cellulose mask sachet and remove both protective layers.
5. Apply mask on skin for 20 minutes. Remove and discard.
6. Gently massage in remaining serum and leave on overnight for best results.
1.42 oz.
This product is part of Glowhaus, a makeup and skin care boutique featuring all things dewy, sparkly and bright.
Web ID: 2969640