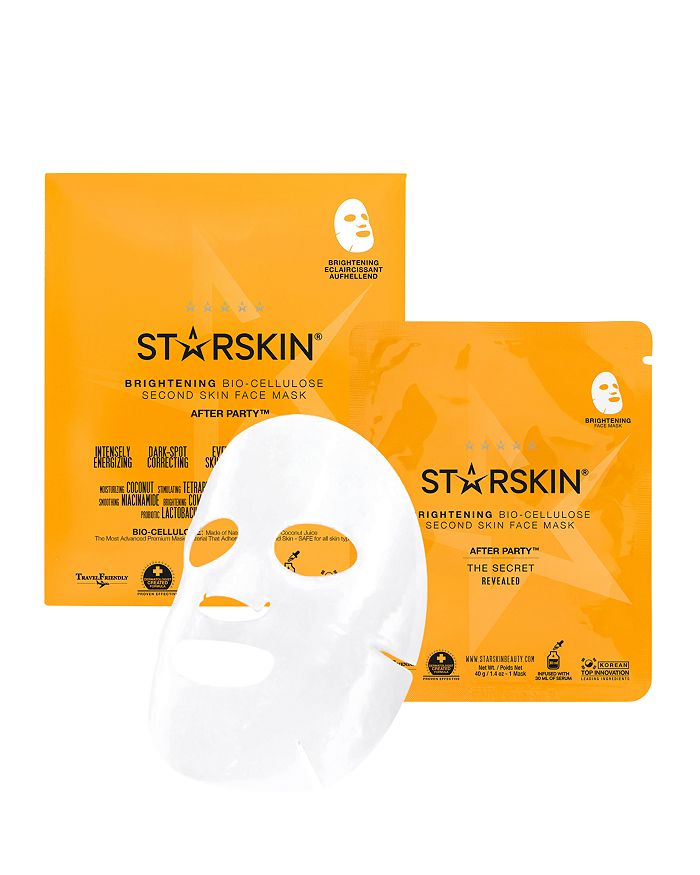 STARSKIN
After Party Brightening Bio-Cellulose Second Skin Face Mask
product details
WHAT IT IS:
STARSKIN After Party is a Bio-Cellulose Brightening Face Mask that intensely energizes for visibly brighter, radiant skin.

WHAT IT DOES:
STARSKIN's premium Bio-Cellulose is formulated with naturally fermented, vitamin-rich coconut juice, and revives and conditions the skin without irritation. The translucent, cooling sheet mask contours closely to the face to deliver a powerful complex of Vitamin C and a proprietary herbal medley, which works to reduce visible dark spots and even skin tone. Each brightening face mask is soaked in a full bottle of potent skin-revitalizing serum, which transforms skin that has been up all night, into starlet-worthy luminosity in just 20 minutes.

HOW TO USE IT:
1. Refrigerate the unopened sachet for 10 minutes before use to enhance the energizing and cooling effect.
2. Before opening sachet, use fingertips to gently distribute serum evenly.
3. Open the sachet, take out mask and carefully unfold. Remove and discard the protective outer layers.
4. Place the Bio-Cellulose sheet onto the face, adjusting the eye, nose and mouth openings. Gently smooth mask over entire face, eliminating any folds or air pockets.
5. Leave on for 15-20 minutes before removing the mask. Gently pat any remaining serum into the skin--no rinsing necessary.
1 mask
This product is part of Glowhaus, a makeup and skin care boutique featuring all things dewy, sparkly and bright.
Web ID: 2969633