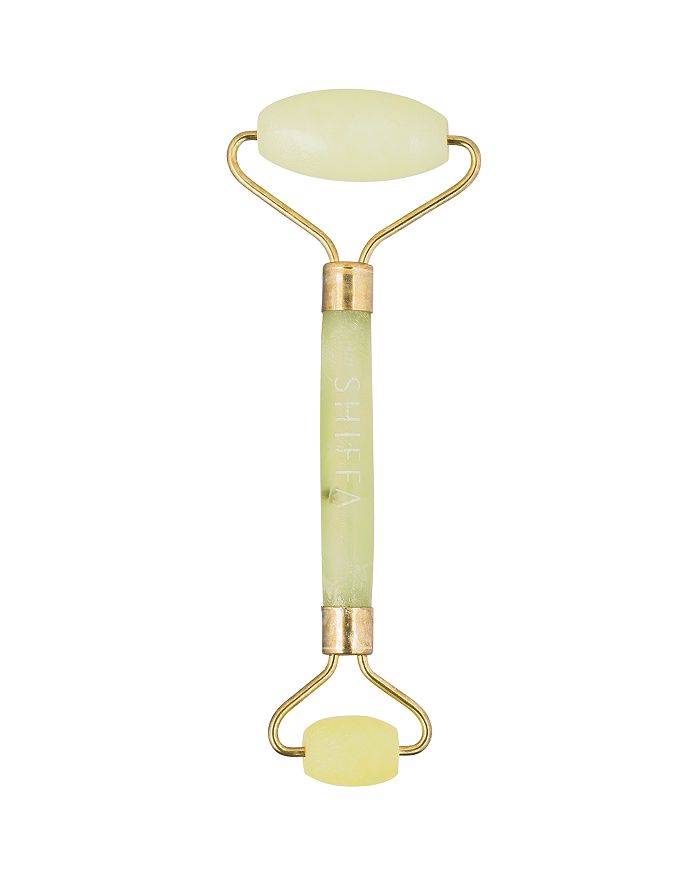 SHIFFA
Jade Facial Massager Roller
product details
WHAT IT IS:
The coolness of the Shiffa Jade Facial Massager Roller brings blood to the surface of the skin and stimulates the muscles so you appear radiant and refreshed.

WHAT IT DOES:
Jade is a healing stone and a symbol of purity and tranquility. It stimulates health, wealth and longevity. Jade soothes the mind and releases negative thoughts. This stone is associated with the heart chakra and is known to increase love and attract good luck. Physically, Jade balances the fluid within the body, calms the nervous system and smoothes skin. It is a cleansing stone which assists in the removal of toxins and detoxifies the blood.

• Contours the facial muscles
• Reduces fine lines and wrinkles
• Improves elasticity
• Reduces puffiness around eyes
• Brightens eye dark circles
• Tightens pores

HOW TO USE IT:
Start by working on one side of the face and repeat on opposite side. Each movement can be repeated 4-6 times. Using the large part of your roller, begin on neck center and roll outward. On the chin, slide outward following jaw line toward the ear. Place the roller next to the mouth and gently slide upward. Starting next to the nostrils, drain outward toward the ears. Using the small part of your roller drain up next to the nose. Slide outward under the eyes toward the temples. Change to the large roller and begin between the eyebrows slide up toward the hairline. Drain upward and outward on entire forehead.