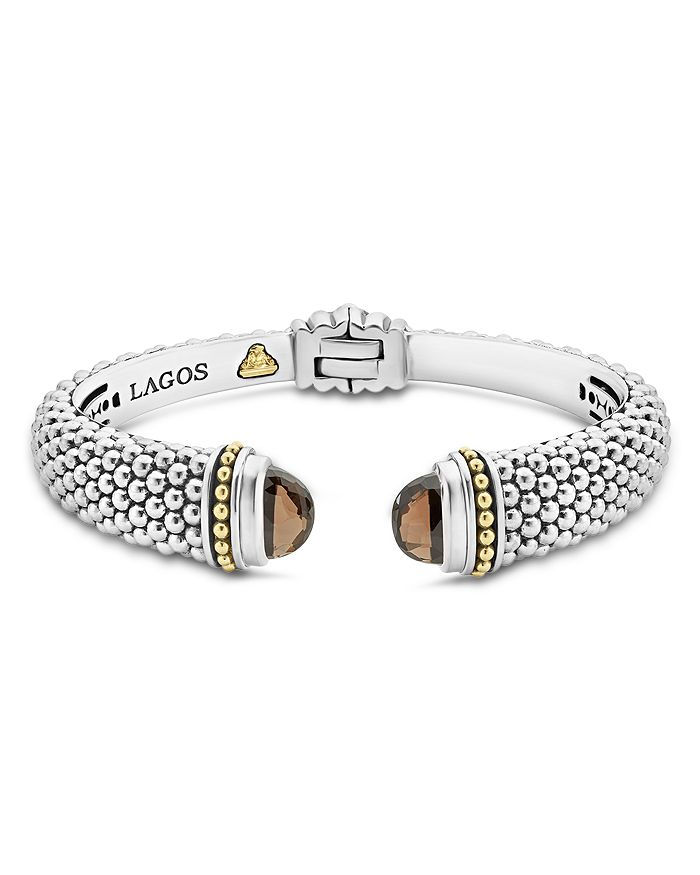 LAGOS
18K Gold and Sterling Silver Caviar Color Gemstone Cuffs, 12mm
product details
Expertly crafted Caviar beading with highly polished sterling silver stations comprise this striking bracelet by LAGOS, detailed with black onyx gemstone end caps.
From the Caviar Color collection
18K yellow gold
Sterling silver
Small: 8" inner circumference; medium: 8.5" inner circumference
Hidden hinge clasp closure
12mm tapers to 6mm width
Almost all gemstones and blue and black diamonds have been treated to enhance their beauty and require special car
Photo may have been enlarged and/or enhanced
Items sold separately.
Web ID: 2684378
about the brand
Since 1977, LAGOS has crafted world-class jewelry channeling the brand's signature laid-back elegance. Founder Steven Lagos was the first designer to mix sterling silver and 18K gold to create two-tone jewelry. Drawing inspiration from his travels, this master jeweler hand-sketches designs for each piece in his collections. The brand's close attention to detail throughout the design process can be seen in every necklace, bracelet, and pair of earrings from its iconic Caviar collection. Each beaded piece requires hours of meticulous work from highly skilled artisans. Constantly innovating, LAGOS was the first fine jewelry maker to craft an Apple watch bracelet.
$50/mo.*

suggested payments for

24-months

totaling

$1,200.00

with a Bloomingdale's Card.

*

$48/mo.*

suggested payments for

24-months

totaling

$1,150.00

with a Bloomingdale's Card.

*

$71/mo.*

suggested payments for

12-months

totaling

$850.00

with a Bloomingdale's Card.

*

$71/mo.*

suggested payments for

12-months

totaling

$850.00

with a Bloomingdale's Card.

*

LAGOS

18K Gold and Sterling Silver Caviar Color Citrine Cuff, 12mm

$71/mo.*

suggested payments for

12-months

totaling

$850.00

with a Bloomingdale's Card.

*

LAGOS

18K Gold and Sterling Silver Caviar Color Hematite Cuff, 12mm

$71/mo.*

suggested payments for

12-months

totaling

$850.00

with a Bloomingdale's Card.

*

$71/mo.*

suggested payments for

12-months

totaling

$850.00

with a Bloomingdale's Card.

*

$67/mo.*

suggested payments for

12-months

totaling

$800.00

with a Bloomingdale's Card.

*

$67/mo.*

suggested payments for

12-months

totaling

$800.00

with a Bloomingdale's Card.

*

LAGOS

18K Gold and Sterling Silver Caviar Color Onyx Cuff, 12mm

$67/mo.*

suggested payments for

12-months

totaling

$800.00

with a Bloomingdale's Card.

*

$67/mo.*

suggested payments for

12-months

totaling

$800.00

with a Bloomingdale's Card.

*