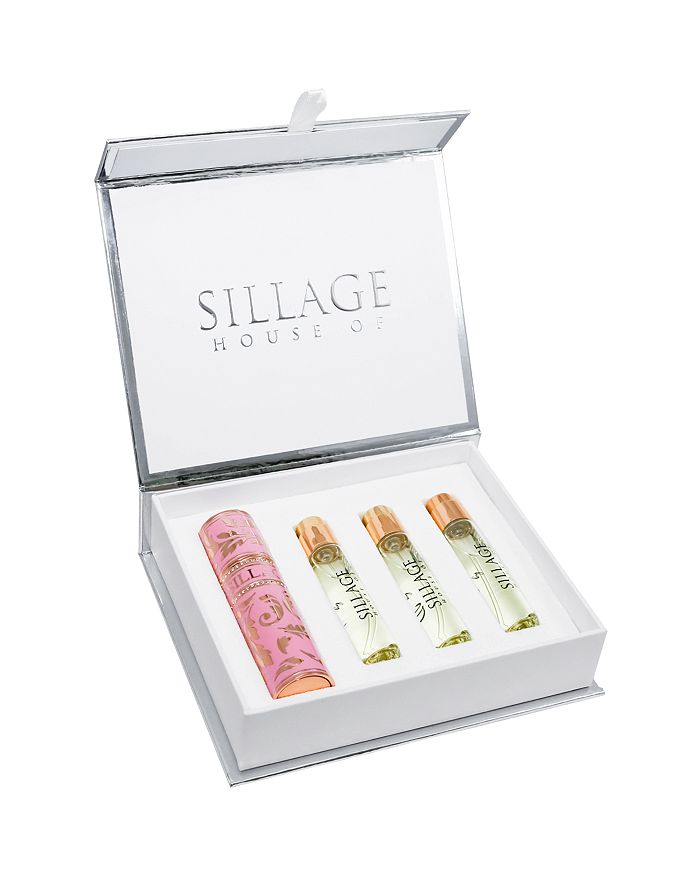 product details
House of Sillage transcends the binds of sensory expression through extraordinary fragrances, which are rivaled only by their breathtaking bottles. Delicately balancing the personal touch of craftsmanship with cutting-edge technology, House of Sillage creates fragrances and packaging of incomparable magnificence and distinction.

A sultry potion of bold and exotic spices, Nouez Moi evokes a captivating aroma with irresistible notes of Bulgarian rose and Indonesian patchouli. An elegant and classic bow adorned in crystals cascades over the fragrance, capturing the eyes of everyone in its path while it emanates an effortlessly playful, avant-garde aura of irresistible beauty.

The Arabesque Collection was influenced by an orchestra of timeless tradition and elegant sophistication. Each delicately crafted flacon represents a precious piece of art, steeped in the musings of old-world heritage and inspired by cherished moments of profound discovery. Playful yet modern and refined, each design begins a concerto in the heart shaped scroll of a classic arabesque opera. The Arabesque Collection revitalizes century-old craftsmanship to provide a unique enchantment of irreplaceable inheritance.

Each box features an enamel Travel Case adorned in diamond-cut Swarovski Crystals, complete with a set of 4 x 0.3 oz. interchangeable vials of Nouez Moi.
4 x 0.3 oz. travel sprays
Web ID: 1652458
This item is part of House of Sillage Rose Travel Set
View All

(3)