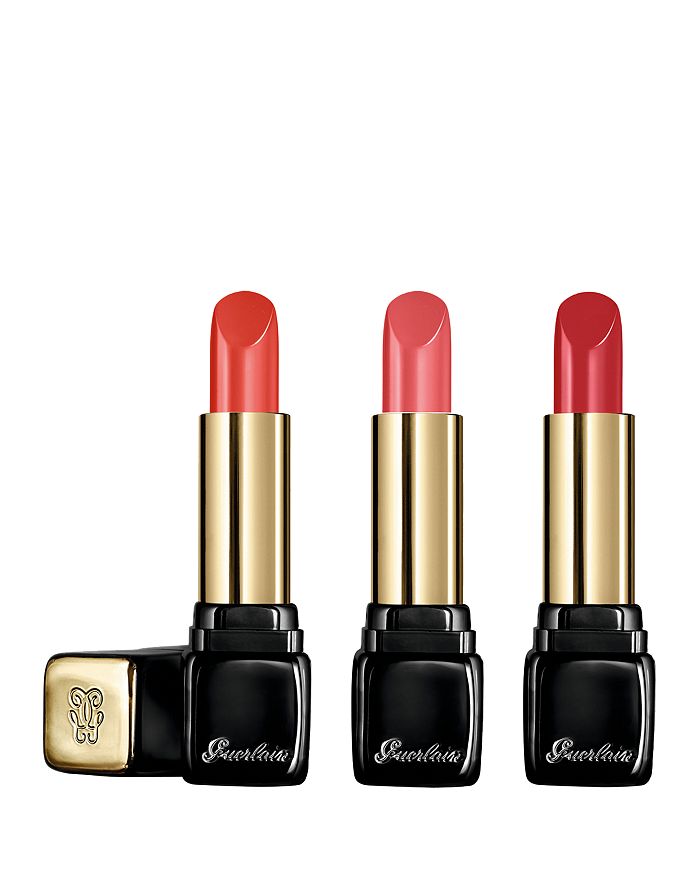 product details
WHAT IT IS:
An eternal treasure with a distinctive character, KissKiss is always full of surprises and is now available in a set of 3 miniatures.

SET INCLUDES:
- KissKiss Lipstick in #344 Sexy Coral (Deluxe Mini)
- KissKiss Lipstick in #343 Sugar Kiss (Deluxe Mini)
- KissKiss Lipstick in #325 Rouge Kiss (Deluxe Mini)

WHAT IT DOES:
Its sleek case features infinitely elegant curves. A tube transformed into a work of art, this sculptural gem is designed like three slender cubes. Simply chic! In perfect harmony with feminine curves, lips immediately regain their fullness and softness thanks to a unique formula enriched with microspheres, plumped with hyaluronic acid. Meanwhile, Commiphora oil helps smooth the lips' surface.

The emblematic shades of this timeless chic essential have been revisited to create a range of miniatures. An ode to color, a collaboration between artists, a prelude to the most beautiful kisses. KissKiss is the iconic symbol of love brimming with irresistible qualities.

HOW TO USE IT:
The KissKiss routine:
1. Start by applying the Liplift primer on lips and slightly beyond the contours, and blend with fingertips.
2. Draw the shape of the lips with the Stylo Lèvres high-precision lip liner.
3. Apply KissKiss directly to the lips.