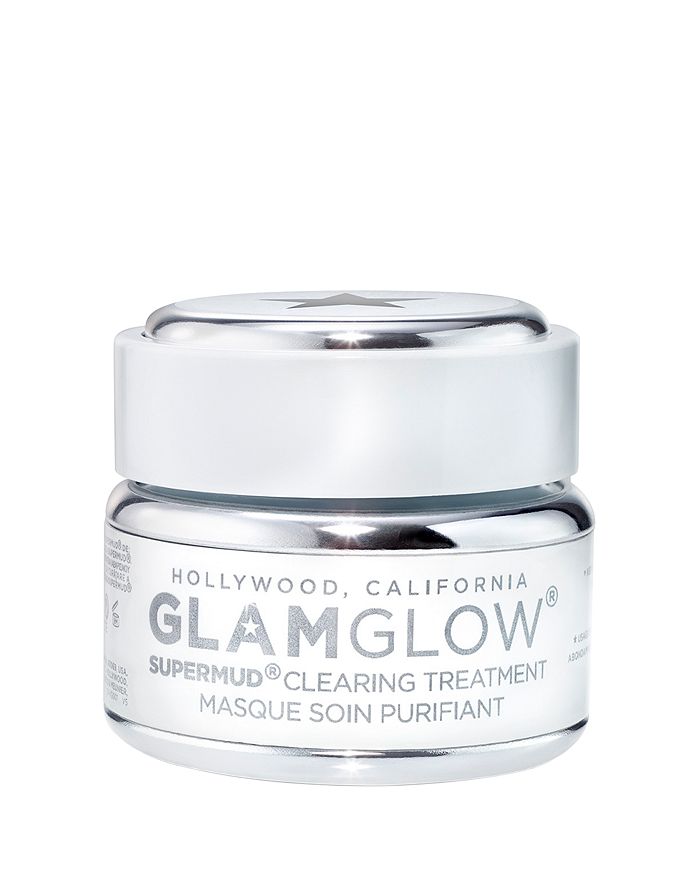 GLAMGLOW
SUPERMUD® Clearing Treatment Mask
product details
WHAT IT IS:
GLAMGLOW's most advanced clearing treatment and #1 best-selling mud mask.

WHAT IT DOES:
Fights problem skin and skin imperfections with a blend of six acids, activated-x charcoal and K-17 clay. The SUPER 6 Acid Blend helps loosen dead skin cells to exfoliate and sweep them away, leaving fresh, smooth skin behind.

- Clearing: Visibly, instantly clears the complexion
- Clarifying: Targets clogged pores, excess oil, and dead skin cells
- Pore refining: Toxins and dirt are removed from deep within the pores

KEY INGREDIENTS:
- Super Six Acid Blend: A proprietary blend of both Alpha Hydroxy Acids and Beta Hydroxy Acids that work together at different speeds on different layers of the skin so you get the benefits of both. Together they unclog pores that can cause skin problems. Includes Glycolic, Salicylic, Lactic, Mandelic, Pyruvic and Tartaric Acids.
- Activated-X Charcoal: An extreme absorption carbon that attracts toxins and dirt from deep in your pores. As the mask dries, pore-matrix dots appear to let you know the formula is working.
- K-17 Clay: A kaolin clay designed to extract and encapsulate excess sebum oils, ready to be washed away.
- Teaoxi Eucalyptus Leaves: Real eucalyptus leaves steep in the mud, delivering phytoactives into the formula.

HOW TO USE IT:
Apply a thin layer to clean skin. Leave on for 5-20 minutes. Remove with water. Use as a full-face mask 1-3 times a week.
This product is part of Glowhaus, a makeup and skin care boutique featuring all things dewy, sparkly and bright.
Allure Readers' Choice Award Winner Five Years in a Row
Web ID: 2670177