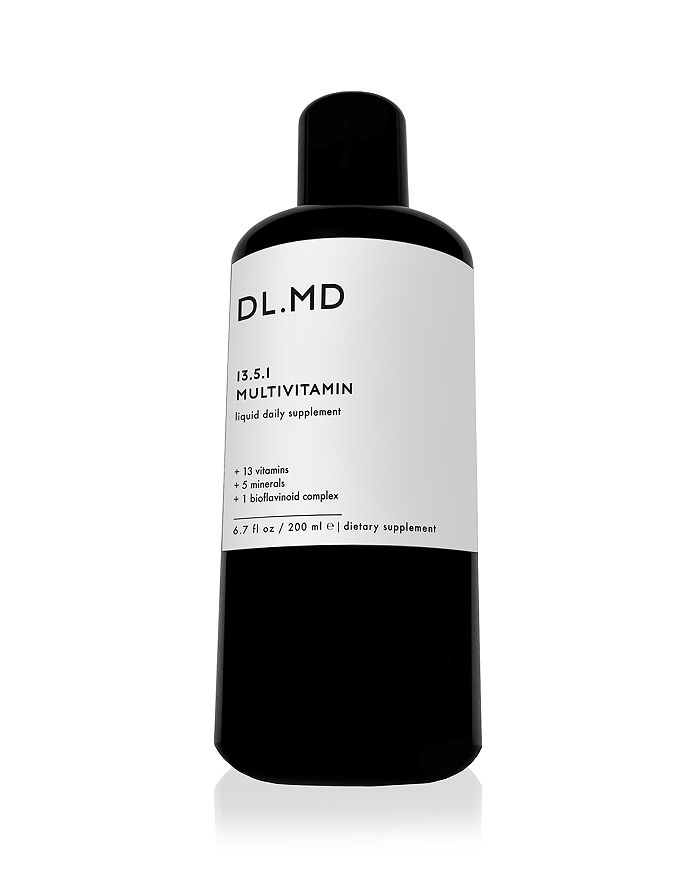 DL.MD
13.5.1 Multivitamin Liquid Daily Supplement 6.7 oz.
product details
WHAT IT IS:
A liquid multivitamin with a high absorption rate (up to 98% compared to 20% for pills and gummies).

WHAT IT DOES:
Improves hair, skin and nails with vitamin C, vitamin E and biotin. The clean formula has extremely high absorption rates and is fast acting. Developed by a medical doctor.

KEY INGREDIENTS:
Contains 13 essential vitamins, 5 minerals and 1 bioflavonoid complex. All that your body needs.

FREE OF...
Sulfates, phthalates, parabens, fragrances, animal cruelty

HOW TO USE IT:
- Take 1 teaspoon a day, with or without food. You can take it on its own or mix it in a cup of water (for a natural berry-flavored drink).
- In periods of stress or when your diet isn't at its healthiest, take 2 teaspoons daily: 1 teaspoon in the AM and 1 teaspoon in the PM.
6.7 oz.
This statement has not been evaluated by the Food and Drug Administration. This product is not intended to diagnose, cure or prevent any disease.
Made in USA
Web ID: 3714314
INGREDIENTS
With their daily values: 50% Vitamin A (as beta carotene), 100% Vitamin C (as calcium ascorbate), 125% Vitamin D3 (as cholecalciferol), 100% Vitamin E Complex (as tocopherols and tocotrienols), 25% Vitamin K1 (as phytonadione), 100% Vitamin B1 (as thiamine mononitrate), 294% Vitamin B2 (as riboflavin), 50% Vitamin B3 (as niacin), 100% Vitamin B5 (as pantothenic acid), 100% Vitamin B6 (as pyridoxine HCL), 200% Vitamin B12, 100% Folic Acid, 100% Biotin (as d-biotin), 3% Calcium (as calcium lactate), 20% Zinc (as zinc gluconate), 21% Selenium (as selenium amino acid chelate), 100% Iodine (as potassium iodide, 33% Molybdenum (as sodium molybdate), Citrus Bioflavonoids