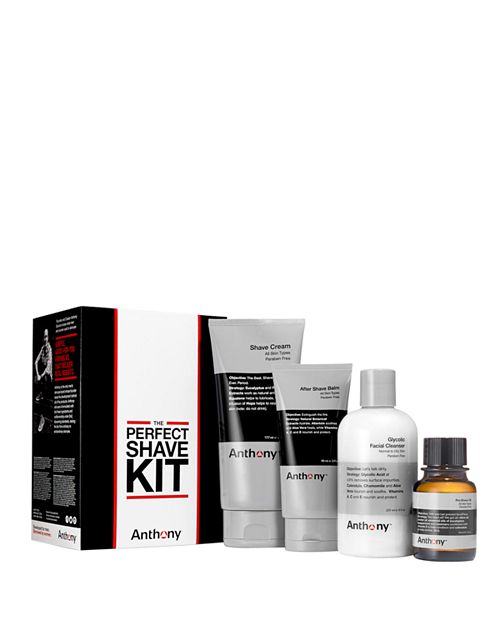 product details
Anthony is a multi-functional, multi-benefit personal care system designed with natural ingredients utilizing the latest in technology. Developed for men, borrowed by women, Anthony is comprised of a wide array of products that address specific skincare concerns from head to toe. The Essentials. The perfect car. The perfect suit. The perfect shoes. The perfect shave. Eliminate the bumps, burns and irritations with the closest shave possible.

Glycolic Facial Cleanser (8 oz.):
Wet face, hands and neck. Squeeze a half-dollar-sized amount of cleanser into the palm and spread over face and neck. Massage gently using circular motions concentrating on the T-zone (forehead, nose, chin, and beard areas). Do not add water. Rinse thoroughly with warm water.

Pre-Shave Oil (2 oz.):
Before shaving, apply a dime-to-nickel-sized amount of product to the beard area, taking care to focus on troublesome areas (lower neck or wherever you get might get razor bumps, ingrown hairs, or razor burn). Layer Shave Cream or Shave Gel on top of oil and shave.

Shave Cream (6 oz.):
Apply an even thin layer onto wet face with your hand. When using a brush, apply a small amount to the tip of the brush, wet and apply to the skin in a circular motion, to lift facial hair. Shave and rinse off.

After Shave Balm (3 oz.):
Apply to freshly shaved skin and reapply as needed.