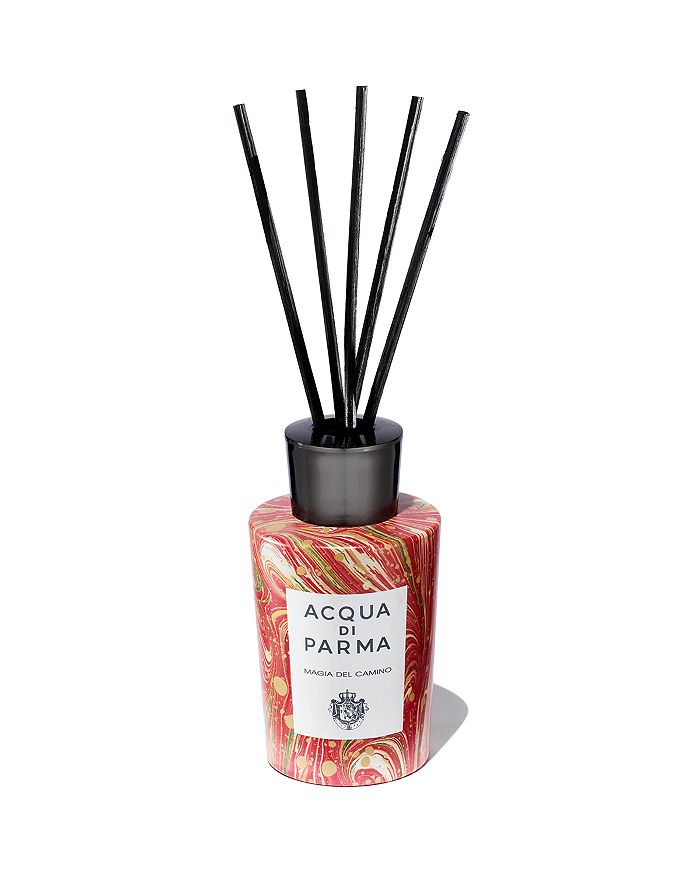 Acqua di Parma
Magia del Camino Holiday Diffuser - 150th Anniversary Exclusive
product details
150TH ANNIVERSARY EXCLUSIVE:
The seasonal exclusive Magia del Camino diffuser is just what the home needs to set the ambience for a holiday gathering of family and friends. The limited-edition diffuser features intense hues and magical tones on the glass jar, a one-of-a-kind print inspired by a Florentine artisanal technique by Italian craftsmen. The diffuser set with rattan sticks makes for optimal diffusion of festive notes across your living spaces. It's exclusive to Bloomingdale's this holiday season and celebrates our 150th anniversary.

KEY NOTES:
Incense, Cedarwood, Guaiac Wood, Birch Wood, Amber

ABOUT THE FRAGRANCE:
The Magia del Camino diffuser brings with it the comforting warmth of a cozy and woody fragrance. The burning flames of a roaring fire come alive with woody notes that unite with warm incense and enveloping touches of amber.

PRECAUTIONS FOR USE:
• Unscrew the cap and remove the inner plate. Replace the cap and insert the reeds in the bottle.
• At first use, soak the reeds for twenty-four hours before turning over.
• The more often the reeds are turned around, the greater the intensity of the fragrance. If the diffusion is too intense, adjust by removing reeds until the desired level is achieved.
• Avoid high temperatures, direct sunlight, and rigorous air circulation to prolong the duration of the fragrance.
• Place on a flat surface without exposure to humidity.
• Keep out of reach of children and pets.
• Keep away from heat, hot surfaces, sparks, open flames, and other ignition sources.
• The fragrance concentrate contains natural raw materials, therefore its color may slightly change over time without compromising its olfactory performance.
• After handling the rattan reeds, it is advisable to wash your hands with clean water and soap.
• Highly flammable liquid and vapor.
This limited-edition item is part of our 150th Anniversary collection.
Capacity: 6 oz.
Duration: 10-12 weeks
Note: All diffusers come with natural black rattan reeds.
Packaged in FSC-certified paper
Web ID: 4484194